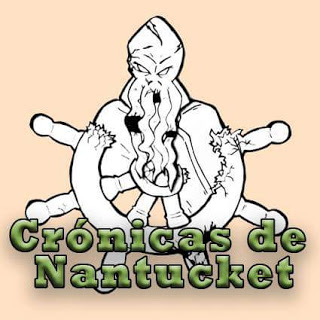 CdN 1×03 – Duelo al alba en Nantucket
– Audio http://www.ivoox.com/11477992
Bienvenidos a nuestra tercera entrega de nuestro programa. Volvemos con un programa variado dividido en tres bloques.
En el primero de los bloques profundizamos en una de los puntos oscuros de la era de Internet como la suplantación de identidad y los peligros de un mal uso de la red de redes desarrollado por nuestro compañero Edgar Luis.
En el segundo bloque nuestro compañero Manuel Martín nos habla de la novela de ciencia ficción Demasiado mundo, demasiada sangre escrito por James Kahn. El uso de la biotecnología para crear nuevas especies en un mundo donde se ha perdido el sentido de moral es una de los temas abordados en esta novela.
En el bloque final nuestros compañeros Sara y Nacho Hernández hablan de los duelos a muerte que alcanzaron su cenit en el SXIX a partir de la novela de Joseph Conrad y la adaptación cinematográfica Los Duelistas. En la última parte hablamos de retos a duelo modernos como el del general Fernández-Monzón al actor Willy Toledo.
Índice:
– Presentación – 0:00:00
– Seguridad y suplantación de identidad en internet – 0:07:24
– Demasiado mundo, demasiada sangre; y el futuro distópico – 2:37:00
– Los duelistas y otros duelos a muerte memorables – 3:45:08
– Despedida – 5:59:00
Las músicas con licencia Creative Commons utilizadas en está entrega son:
– Muza – Home Guard
– The Gateless – View of the Greenland Sea North of Siglufjur
– Shenoz – Chute Libre (interlude)
– Kevin MacLeod – Americana
– Kai Engel – Between nothing and everything
– Waterpistol – Melody for the grass
– The mind orchestra – Seagull
Y con música de fondo compuesta por Chris Zabriskie, Adrian von Ziegler, Machiminasound and Danny Olson.
Nuestra vías de contacto son:
Twitter: @CDNantucket
email: cronicasnantucket@gmail.com
Telegram (solo audios): +1 (561) 766-6541
Facebook: https://www.facebook.com/CronicasDeNantucket/
Búscanos en ivoox e itunes y dejanos tus comentarios:
http://www.ivoox.com/podcast-cronicas-nantucket_sq_f1274025_1.html
https://itunes.apple.com/us/podcast/cronicas-de-nantucket/id1102234297?mt=2