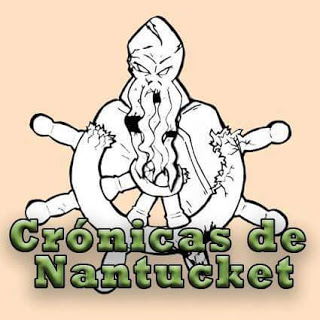 CdN 1×04 – Sangre en un ring de Nantucket
– Audio: http://www.ivoox.com/12282059
Buenas a todos. Tras una provechosa cacería de ballenas repleta de aventuras volvemos con el penúltimo programa de la temporada. Lamentamos la demora y prometemos ser más regulares de ahora en adelante. En está ocasión, nos juntamos algunos miembros del Consejo de Nantucket para hablar de wrestling, lucha libre, pressing catch… o como prefiráis llamarlo. Repasamos la historia de este deporte, sus orígenes y sus estilos de lucha. Pero sobre todo nos centraremos en la cara más oculta de este deporte-espectáculo, cuando las desgracias suceden a las acciones espectaculares en el ring… Accidentes, combates que se salen del guión previsto y combates con resultados fatales serán tratados en este programa. Le dedicamos un apartado especial dedicado a New Jack, icono del wrestling hardcore y uno de los luchadores más duros, locos y peligrosos de la industria. Escuchadlo, ¡si no queréis que New Jack os apuñale!.
Los enlaces de los videos que comentamos (y algunos más) son los siguientes:
-Muerte del hijo del Perro Aguayo durante un combate contra Rey Mysterio https://www.youtube.com/watch?v=SRv-JktJ8eM
-Muerte de Owen Hart tras una caída desde 25 metros de altura https://www.youtube.com/watch?v=gpkFHAUhzKU
-Un buen ejemplo de combate hardcore con luchadores acrobáticos y técnicos https://www.youtube.com/watch?v=FqQxYvI8muY
-CZW, la empresa de wrestling más extema y sangrienta de la historia https://www.youtube.com/watch?v=YQEBlyKvSI8
-Escena de la pelicula "El luchador", enfrentamiento made in CZW de Necro Butcher contra Randy "The Ram" Robinson en un Ultraviolent Death Match https://myspace.com/141822411/video/the-wrestler-czw-necro-bucther-vs.-the-ram/104169336
-New Jack y Mustapha (The Gangstas) haciendo lo que mejor se les da: https://www.youtube.com/watch?v=pRP5D-7ye5E
-New Jack y el Mass Transit Incident http://kivvi.kz/watch/ext17vkgiwst/
-New Jack apuñalando a su rival en pleno combate https://www.youtube.com/watch?v=zagWO_T_e4s
-Danbury fall del New vs Vic Grimes: el combate de la desgracia https://www.youtube.com/watch?v=v-7YY5sixbI
-Danbury fall 2: 40 ft Scaffold match – New Jack vs vic Grimes 2: The revenge https://www.youtube.com/watch?v=f2gnSd607tI
Las músicas con licencia Creative Commons utilizadas en está entrega son:
– Muza – Home Guard
– The Gateless – View of the Greenland Sea North of Siglufjur
– Kevin MacLeod – Big Rock
– Soriano – WrestleMania City Bitch
– Tamara Bubble – BubbleMania
– The mind orchestra – Seagull
Y con solos guitarreros de fondo compuestos por Steve Stell.
Nuestra vías de contacto son:
Twitter: @CDNantucket
email: cronicasnantucket@gmail.com
Telegram (solo audios): +1 (561) 766-6541
Facebook: https://www.facebook.com/CronicasDeNantucket/
Búscanos en ivoox e itunes y dejanos tus comentarios:
http://www.ivoox.com/podcast-cronicas-nantucket_sq_f1274025_1.html
https://itunes.apple.com/us/podcast/cronicas-de-nantucket/id1102234297?mt=2