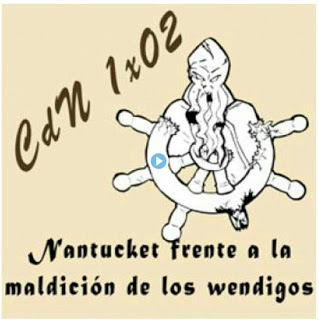 CdN 1×02 – Nantucket frente a la maldición de los wendigos
– Audio: http://www.ivoox.com/11067352
Bienvenidos de nuevo a Nantucket. Tras la semana santa volvemos con un nuevo programa monográfico sobre el mito del wendigo.
El wendigo (o windigo) es una figura mitológica creada en diversas tribus de Norteamérica, como los indios algonquinos, que ha sido transmitido durante generaciones. En las leyendas de los indígenas de la costa atlántica y región de los grandes lagos, el wendigo es un ser que en un principio fue humano y, tras practicar canibalismo, se desplaza por bosques y estepas dejando un rastro de sangre y silencio en su intento de calmar su insaciable apetito de carne humana. Está figura mitológica, transmitida por tradición oral, ha sobrevivido hasta nuestros días.
En Crónicas de Nantucket hemos investigado exhaustivamente esta leyenda propia de los indios de Norteamérica desde diversos puntos de vista.
Índice:
– Dramatización (guionizado por Manuel Martín) – 0:00:00
– Presentación – 0:10:12
– Indios de Norteamérica – 0:18:39
– El mito del Wendigo – 0:47:05
– La Psicosis Wendigo – 1:23:05
– Wendigos youtubers – 2:20:23
Los enlaces se encuentran en nuestro blog (https://cronicasdenantucket.blogspot.com)
– Wendigos internacionales – 3:46:15
– Wendigo en cine, literatura, videojuegos y comics – 4:22:32
Las músicas con licencia Creative Commons utilizadas en está entrega son:
– Muza – Home Guard
– The Gateless – View of the Greenland Sea North of Siglufjur
– Greg Reiter – Sedona
– Greg Reiter – The way it was
– Rens Music – Fire dance
– Zero Project – Land of legends
– Zelest – Native American Thingly
– Mystic Soulmate – Indians
– The Mind Orchestra – Seagull
Y con música de fondo compuesta por Kevin MacLeod, Zero Project y Kerri.
Nuestra vías de contacto son:
Twitter: @CDNantucket
email: cronicasnantucket@gmail.com
Telegram (solo audios): +1 (561) 766-6541
Facebook: https://www.facebook.com/CronicasDeNantucket/