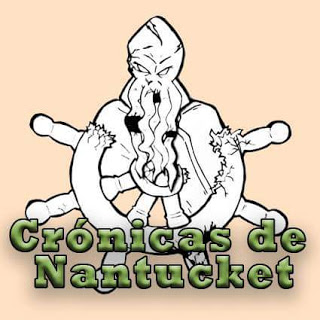 CdN 1×01 – Arribando a Nantucket
– Audio: http://www.ivoox.com/10630744
CdN 1×01 – Arribando al puerto de Nantucket
Bienvenidos a Nantucket. En este podcast se profundizarán en los temas de misterio, ciencia, historia, crónica negra, literatura, cine y otros elementos de difícil clasitficación.
El programa de hoy es una carta de presentación en la que exponemos varios temas que esperamos os parezcan interesantes.
Tras la dramatización y la presentación nuestro compañero José Guerrero habla del auge y caída del genero musical Black Metal. Posteriormente, Israel Ampuero nos relata las anomalías detectadas por los astrofísicos y las diversas hipótesis planteadas por parte de la comunidad científica. Algunas de ellas os sorprenderán .
El excursionista y explorador aficionado Kevin Veach desapareció tras desvelar el hallazgo de una extraña cueva en Nevada (EE.UU). Kevin aún no ha sido localizado en un caso no exento de polémica como nos descubre Edgar Luis con datos aún no publicados por la prensa. Por su parte, nuestra dama oscura Sara Hernández nos enseña que todo pasado no siempre fue mejor. La Francia de las Amistades Peligrosas relatadas con un matiz sangriento.
El virus Zika y su conspiración desmitificada por Nacho Hernández y un repaso por las características de la novela gótica analizado por Manuel Martín cierran el primer programa de Crónicas de Nantucket.
Índice:
– Dramatización (guionizado por Manuel Martín) – 0:00:00
– Suicidios, iglesias quemadas y Black Metal (José Guerrero) – 0:17:40
– Anomalías estelares: ¿superestructuras extraterrestres? (Israel Ampuero) – 1:51:10
– La misteriosa desaparición de Kevin Veach (Edgar Luis) – 2:43:05
– La marquesa asesina (Sara Hernández) – 3:16:25
– La conspiración del Zika (Nacho Hernández) – 4:13:40
– La novela gótica (Manuel Martín) – 4:59:43
– Despedida – 6:41:57
Las músicas con licencia Creative Commons utilizadas en está entrega son:
– Muza – Home Guard
– The Gateless – View of the Greenland Sea North of Siglufjur
– Absu – Part 5
– Malkuth – Part VI
– Liturgy – Arctica
– Strannick – Out of mirror
– Jonas Niemann – Transcendentia
– Shenoz – Chute Libre (interlude)
– Kevin MacLeod – Americana
– Waterpistol – Melody for the grass
– Maciej Kulesza – Run
– Kai Engel – Between nothing and everything
– The mind orchestra – Seagull
Y con música de fondo compuesta por Chris Zabriskie, Adrian von Ziegler, Kevin MacLeod, Machiminasound, Danny Olson y Peder B Helland.
Nuestra vías de contacto son:
Twitter: @CDNantucket
email: cronicasnantucket@gmail.com
Telegram: +1 (561) 766-6541 – http://telegram.me/CDNantucket
Facebook: https://www.facebook.com/CronicasDeNantucket/