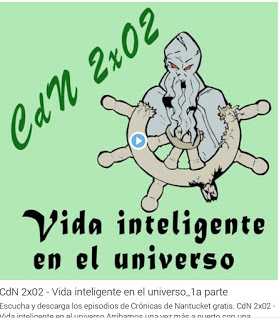 – Audio del programa
– http://www.ivoox.com/13345221
CdN 2×02 – Vida inteligente en el universo
Arribamos una vez más a puerto con una provechosa caza en nuestras bodegas. Este programa estará dividido en dos entregas, del cuál este audio es la primera parte.
Una de las grandes cuestiones de la humanidad es determinar si estamos solos en el universo. Los marineros de Nantucket nos hacemos la misma pregunta y analizamos exhaustivamente esta cuestión desde varios puntos de vista. En esta primera parte averiguaremos las características de los proyectos de búsqueda de vida inteligente en el universo, la famosa paradoja de Fermi que analiza las posibles civilizaciones extraterrestres en el espacio exterior y la posible anatomía de estos posibles seres mediante un ejercicio mental usando las herramientas que tenemos a mano. Sigue con nosotros en este viaje a las estrellas.
Índice:
0:00:00 – Presentación
0:08:37 – Entrevista a Lourdes Cahuich sobre los proyectos SETI (búsqueda de vida inteligente)
2:09:47 – Paradoja de Fermi.
4:12:02 – Construye tu propio ser inteligente. Anatomía del posible E.T.
6:43:18 – Despedida de la primera parte del programa CdN 2×02.
Las músicas con licencia Creative Commons utilizadas en está entrega son:
– Muza – Home Guard
– The Gateless – View of the Greenland Sea North of Siglufjur
– T-Trider – Shades of Space
– BDKSonic – Moonlight Dance
– Nico Wohlleben – Curiosity
– ANtarcticbreeze – Prometheus
– Esther Garcia – About Life
Y con la música cósmica de fondo compuesta por Epic Music World, Kevin MacLeod, Machinimasound and Danny Olson.
Nuestra vías de contacto son:
Twitter: @CDNantucket
email: cronicasnantucket@gmail.com
Telegram (solo audios): +1 (561) 766-6541
Facebook: https://www.facebook.com/CronicasDeNantucket/
Blog: https://cronicasdenantucket.blogspot.com
Búscanos en ivoox e itunes y dejanos tus comentarios. Apoya el proyecto de estos humildes balleneros dando like a los programas si te gustan:
http://www.ivoox.com/podcast-cronicas-nantucket_sq_f1274025_1.html
https://itunes.apple.com/us/podcast/cronicas-de-nantucket/id1102234297?mt=2